What do you do with all the stuff that won't fit in your garage, basement, or attic? A great way to organize these things and keep them neatly out of sight is to erect a storage shed! While a storage shed is a utilitarian building designed for a specific purpose — to hold extra things you need to keep your home in shape — they don't have to look utilitarian. In fact, there are just about as many storage shed designs as there are home designs.

When building your shed or buying a prefabricated shed, you'll want to consider both its exterior and its interior. Exterior considerations include size, architectural design, windows and doors, and optional features like cupolas, shutters, and window boxes.

So why is size so important? Two reasons. First of all, you want to make sure that your shed will easily hold the amount of things you need to store. Secondly, you want to make sure that the size of your shed works in harmony with the other buildings on your property. Your shed should be large enough so there's enough floor space to accommodate your belongings, as well as enough room to move around them. You don't want to have to move the lawn mower out of the shed every time your kids want to ride their bikes! In addition, while your storage shed can be attractive it shouldn't be the focal point of your property. A shed of the right size enhances your yard but doesn't stand out or dwarf your home.
Next you'll want to consider the style of your shed, which is basically determined by the roofing and siding materials. These should match those of the other buildings on your property. It's also important that the doors and windows match. You can further match your storage shed to your home by adding similar embellishments like window boxes or shutters.
Common building materials for storage sheds include pine, vinyl, and cedar. Rough sawn pine is a traditional and relatively inexpensive choice, but pine does require regular maintenance — it may need to be painted or stained every few years. Vinyl siding requires little maintenance and can be matched to the siding of your home, but it dents easily. Cedar siding is a more expensive choice, but cedar wood is resistant to rot and insects. Other shed material choices include metal and plastic, which are often used for smaller, do-it-yourself shed kits. A well-built shed, made with durable materials, should last at least 20 years.
You'll also want to consider what you're putting in your storage shed when planning its exterior. For example, if you are planning to store a ride-on mower or garden tractor, a ramp will make life much easier.
When it comes to the interior, what should you think about? While an empty and open floor plan may sound appealing at first, you can really maximize your space and allow a small shed to hold quite a lot of you add some strategically placed shelves and hooks. If you are planning to store lumber or large boxes, a storage loft above the ceiling joists will make things much easier and increase your storage space dramatically.
There are three basic ways to build a storage shed. You can buy a kit and assemble your shed at home, you can buy plans and then build your shed at home using your own material, or you can design and build your own storage shed from scratch. The first option is the easiest but is also the most expensive, while the third option is the most labor intensive but also allows you to customize your storage shed to your specific needs. Whichever method you choose, don't forget to check with your local zoning board regarding zoning laws and building permits before you begin to build. This important step is sure to save you time and money in the long run!
Storage Shed Manufacturers
---
Storage Sheds - Buying A Storage Shed
Related Images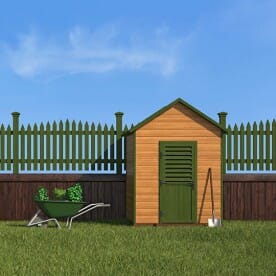 Gardening Shed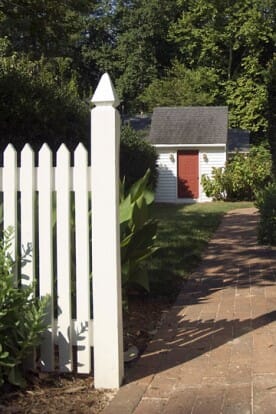 White Garden Shed With A Red Door